"YOU ARE WHAT THEY EAT!!" ... This applies to humans and every other living organism, including cattle!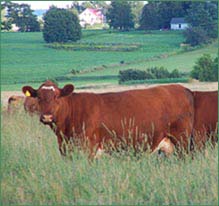 Grass fed beef
1/3 the saturated fat and lower calories than feedlot beef.
high Omega 3 levels
not a source of BSE
environmentally friendly compared to other forms of agriculture
no antibiotics or hormones
fed on grass and hay
superior more distinctive taste
local producer
less than 1% of all beef sold
All photographs on the web site have been taken at the farm.